It seems like buying a home in Canada, especially for those entering the marketplace for the first time, is becoming more challenging every day. With that in mind, the Government of Canada launched a new program on September 2, 2019 through the Canadian Housing Mortgage Corporation (CHMC) called "First-Time Home Buyer Incentive" with the intent of providing financial assistance to first-time home buyers to purchase a home.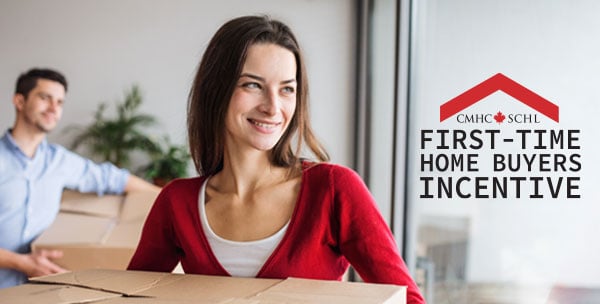 What is the FTHBI program?
If you are eligible for the program, the incentive is essentially a shared equity mortgage with the Government of Canada. It's called a shared equity mortgage because the government shares in any gains or losses on the home's equity.
The government will loan a buyer 5% of the purchase price for a re-sale home, or 10% for a new one. That would work out to up to $50,000 on a new $500,000 home, or $25,000 on a $500,000 resale property. That could save you money on your mortgage payment and monthly insurance premium—somewhere around $100 to $300 per month, according the federal government's calculations.
How does the FTHBI program work?
To be eligible for the program, you need to meet the following criteria:
Be a first-time home buyer; consumers who have never owned a home, have gone through a divorce or dissolution of a common-law relationship and/or have not lived in a home owned by themselves or a partner in the past four years.
Your qualifying household income is less than $120,000 including your employment and money you earn from investments and rental income.
You have at least the minimum down payment. Keep in mind, the minimum down payment is 5% of the first $500,000 of the home's purchase price, and 10% for any amount above that so the total amount for a down payment (including the FTHBI amount) must be less than 20% of the home's purchase price. This maximum down-payment rule ensures that the FTHBI only applies to CHMC mortgage-default-insured mortgages.
You can only borrow less than four times your qualifying income. What does this mean? Since the maximum qualifying income is $120,000, the most any eligible buyer can borrow (and still be able to apply for the Incentive) is $480,000 — including the mortgage, mortgage insurance and the FTHBI amount.

Investment properties are not eligible:

the program is only for homeowners who intend to live in their home.
The good news
If you use the program, you don't have to make ongoing payments and are not charged interest on the loan. But note, you are required to repay the incentive, either when your sell your home, or after 25 years—whichever comes sooner.
Things to consider
Here are some points to consider before applying for this program:
The 5% (resale home) or 10% (new home) of funds you must repay are NOT based on the dollar amount borrowed. but calculated as a percentage of the home's fair market value at the time of sale, or at the 25-year mark. Remember, the government benefits from any increase in equity of your home and loses out if the equity decreases. So, if your home has increased in value, you will need to pay back more than you borrowed. If your home has decreased in value, you'll pay back less than you borrowed.
For many people who live in larger cities or areas where home prices are quite high, you may not be able to use this program on anything but a starter-condo or town home.
For buyers who live in communities with lower housing costs, this program might be the ideal way to enter the marketplace but do keep in mind as the value of your home rises, the amount you will need to repay will rise too.
Do you qualify?
Here is a link to a calculator from CMHC who manages the program that you can use to get find out if qualify for the program and the amount of funding you may be eligible to receive based on your income and down payment.
We are here to help!
You should also be aware that there may be extra fees for legal, appraisal and mortgage refinancing involved in the administration of the program, so it really pays to sit down with one our mortgage specialists and go over your current financial situation and future financial and home equity projections to ensure this is the right program for you to use to become a home owner.
Want to make sure this is the right program for you? We'll let you know the best options for YOU!