2018 looks to be a big year for mortgage renewals* with many homeowners facing rising interest rates from the low rates common over the past five years. If you are renewing your mortgage this year, you may be in for sticker shock when you receive your renewal letter from your financial institution. Are you simply going to accept the rate? Are you aware of the options available to you when renewing your mortgage?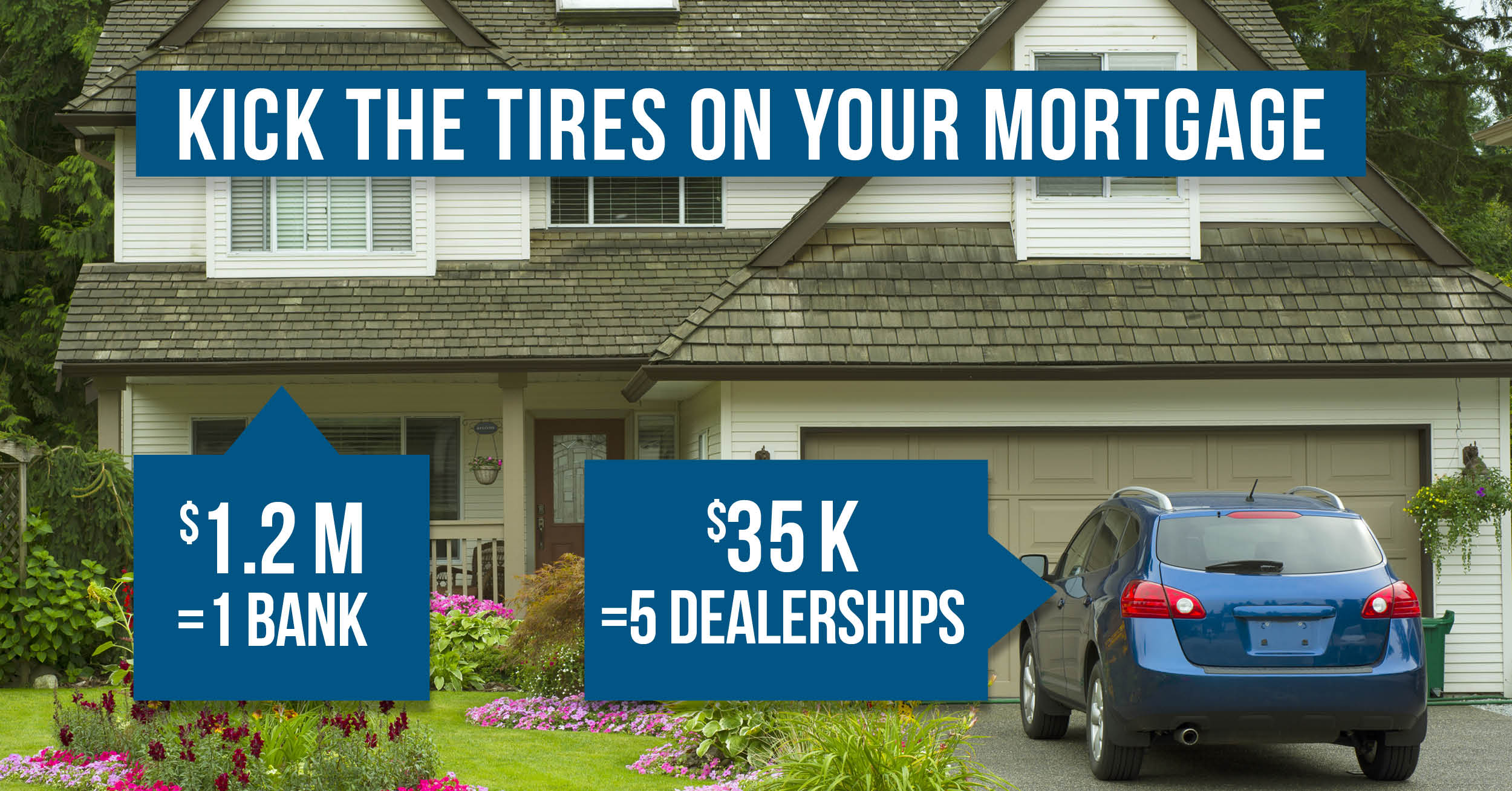 How many lenders have you "shopped" with?
For many home buyers, instead of going out and kicking the tires as they would on a car purchase by shopping around, a lot of people simply take the first offer they get when renewing their mortgage instead of looking for other options that could save them thousands of dollars in interest and/or provide a better mortgage product more suited to their lifestyle. Have you kicked the tires on your mortgage?
Some tips to use to kick the tires on your mortgage renewal
shop early for a new mortgage, starting at least six months prior to your renewal date
get a 90-120 day rate hold on the new mortgage
request your switching fees be waived to save money on appraisal and mortgage discharge fees
your renewal date is the best time to refinance your mortgage and access equity in your home without facing a costly prepayment penalty – this may be the best time for you to downsize bad debt which will save you money on future high interest payments
New mortgage regulations
Keep in mind, with the new stress-test rules, you will be required to prove that you can make payments on your mortgage at a higher rate above the actual interest rate*. If you cannot, you will then be forced to remain with your current lender and accept their rates.
Not to worry, we have many options to help you have the freedom to switch your lenders and find the best mortgage for you at renewal time. We will kick the tires for you.
*47% of existing mortgages are expected to come up for renewal in 2018 based on a recent CIBC Capital Markets report.
**You must show you can afford mortgage payments at the Bank of Canada's five-year benchmark rate or the actual rate on offer plus two percentage points. Use our mortgage calculators to estimate your potential payment.